Home
Free Initial Consultation:
Click to Call 1-800-842-7040
Law Firm Exclusively Devoted to New York
Estate, Probate, Trust & Inheritance Law
The New York Law Firm of Mitchell Wilensky limits its practice to New York estate, probate, inheritance and trust law. The firm's expertise and extensive experience within its practice concentrations allows it to distinguish itself from those attorneys that are more "general practice" oriented.
Handling Both Uncontested and Litigated Cases
Whether it is a simple uncontested matter or complex estate litigation, the New York Law Firm of Mitchell Wilensky has the experience, skills and knowledge to achieve superior representation, and to make certain that the interests of its clients are always paramount.
Representing New Yorkers and Out-of-State Clients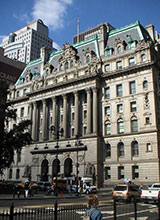 For over 35 years Mr. Wilensky has provided quality representation and personal attention in protecting and securing the rights of his clients in New York probate, inheritance, and estate matters in Manhattan, Brooklyn, Queens, the Bronx, Westchester, Long Island (Nassau & Suffolk counties), and other New York counties.
A sizeable percentage of our clients do not reside in New York State. National demographic factors have impacted many traditional New York families. Family members that have "migrated" out of New York who now require legal representation for New York inheritance, probate, and estate matters can successfully be represented by Mr. Wilensky with the utilization of electronic mail, overnight delivery services, and video conferencing.
Experienced, Knowledgeable and Compassionate
Mr. Wilensky received his B.A. from Cornell University and his J.D. from the State University of New York at Buffalo. He has lectured in the probate and estate field and has been quoted in the New York Times and Newsday. He is currently listed as a reference & resource on LegalZoom's Wills & Trusts Legal Info website. The firm has been involved in leading cases, including a landmark case in the New York County Surrogate's Court regarding the right to a jury trial in a proceeding to invalidate a lifetime trust, as well as a litigated Kings County (Brooklyn) administration case in an estate of a victim of the September 11th terrorist attacks. (See the "Reported Cases" section of this website.)
For 2022 Mr. Wilensky has once again received the "AV" Preeminent Rating through the Martindale-Hubbell peer review selection process. The "AV" Rating is the highest possible rating awarded by Martindale-Hubbell for Legal Ability & Ethical Standards and is a testament to the fact that a lawyer's peers rank him or her at the highest level of professional excellence.
Litigation Services
Will Contests – Disinherited Heirs
Estate Litigation – all NYS Surrogate's Courts
Fiduciary Removal Proceedings
Kinship Proceedings – Establishing Heirship
Spousal Inheritance Disputes
Contesting Powers of Attorney
Wrongful Death Proceedings
Breach of Fiduciary Duty
Fraudulent Transfers
Uncontested Services
Administering & Settling Estates
Probating Wills – Simple to Complex
Estate Tax Returns and Audits
Intestacy (Dying with no will)
Estate & Trust accountings
Representation of Executors & Trustees
Representing Administrators
Representing Beneficiaries
Sale of Decedent's Home
If you are named as an executor in a Will and are seeking an attorney to probate the Will and assist you in administering the estate, you should be aware that you are not legally bound to retain the attorney who drafted the Will or handled the decedent's affairs.